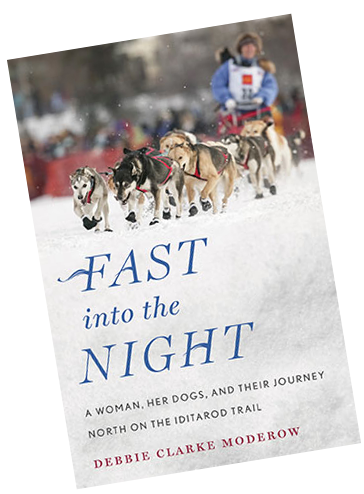 From the cover: A captivating memoir on one woman's attempt to complete Alaska's legendary race, The Iditarod, led by her team of huskies with whom she forms a fascinating and inextricable bond.
"A soulful memoir about adventure and one woman's love for her sled dogs." Kirkus RevieW
     
NOVEMBER 2016 NEWS: FAST INTO THE NIGHT WINS THE NATIONAL OUTDOOR BOOK AWARD, FOR OUTDOOR LITERATURE!
Winner. Fast Into the Night:  A Woman, Her Dogs, and Their Journey North on the Iditarod Trail.  By Debbie Clarke Moderow.  Houghton Mifflin Harcourt, Boston.  ISBN 978054448412
In this beautifully written and moving account, Debbie Moderow whisks you away on a dogsled across Alaska.  Her interest in dogs began quite innocently when a friend gave their family a "retired" sled dog by the name of Salt.  Salt came just at a perfect time, helping Moderow recover from the depression following a second miscarriage.  The family took in more dogs, and in a roundabout way, Moderow ended up entering Alaska's famous Iditarod race.  There's adventure, of course, and plenty of it on the thousand-mile Iditarod trail, but what makes this book so appealing is the connection between Moderow and her dogs.  We come to learn their names, their personality quirks, and the warmth and love that she shares with each of them. 
WORDS OF PRAISE:
"Bravo for turning out what may be the quintessential Iditarod story,
and for crafting what is simply a great Alaskan adventure well told."
— DAVE ATCHESON, author of Dead Reckoning
"Personal, vivid, and authentic, Fast Into The Night lives up to its title.
Through moments of failure and triumph, Moderow's love for family,
her dogs, and the grand adventure of life shine forth."
— NICK JANS, author of A Wolf Called Romeo
"It's a book you can't put down."
— LYNNE COX, author of Swimming to Antarctica
"Crossing the finish line, it turns out, requires resilience
as much as endurance, humility more than strength. This is an
extraordinary account of a family's faith in one another —
four-leggeds and two-leggeds alike."
— SHERRY SIMPSON, author of Dominion of Bears
"In this well-crafted memoir, Debbie Moderow takes us on two compelling adventures, one outward, the other inward. Year by year, traveling by dogsled over the rugged landscape of Alaska, she develops the skill and stamina and courage required to finish one of the most grueling races on Earth. Those same strengths enable her to undertake inner journeys through personal and family history, through love and loss, until she comes to understand what matters most in life, both on and off the trail.
—SCOTT RUSSELL SANDERS, author of  Earth Works: Selected Essays
"It's only about the dogs," says the voice in her head. And it is about the dogs (those wonderful dogs) — but this book is about so much else: family and community; legacy and loss; America the beautiful; best of all, about one woman's reserves of love and courage in spite of the odds. A beautiful story, beautifully written, Fast Into the Night— about personal triumph — is a triumph in and of itself.
—DINAH LENNEY, author of The Object Parade, and Bigger Than Life
PODCASTS, GUEST BLOGS, FEATURES AND MORE:
SCOTT JONES created Athlete on Fire, "to help every single person that thought they may be able to apply themselves to an athletic endeavor, no matter their ability or circumstance, realize that they could absolutely do so. I really enjoyed talking with him during my book launch week. Check out his wonderful website, and the podcast about Fast Into the Night HERE.
ANDEE ZOMERMAN of Stumptown Christian in Portland, Oregon, recently interviewed me about the memoir. Her blog and podcast celebrate "Portland, OR. Stumptown. Home of coffee, rain, and The None Zone. More people in the Pacific Northwest check the box "None" when surveyed about religious affiliation. Are we just a bunch of heathens?" Check out her fine website and podcast, including her interview with me HERE.
Watch an interview about Fast Into the Night, with Debbie and Tracy Sinclare from KTUU Channel 2 TV in Anchorage, HERE.
From the BOSTON GLOBE, read the feature article about Debbie and Fast Into the Night HERE.