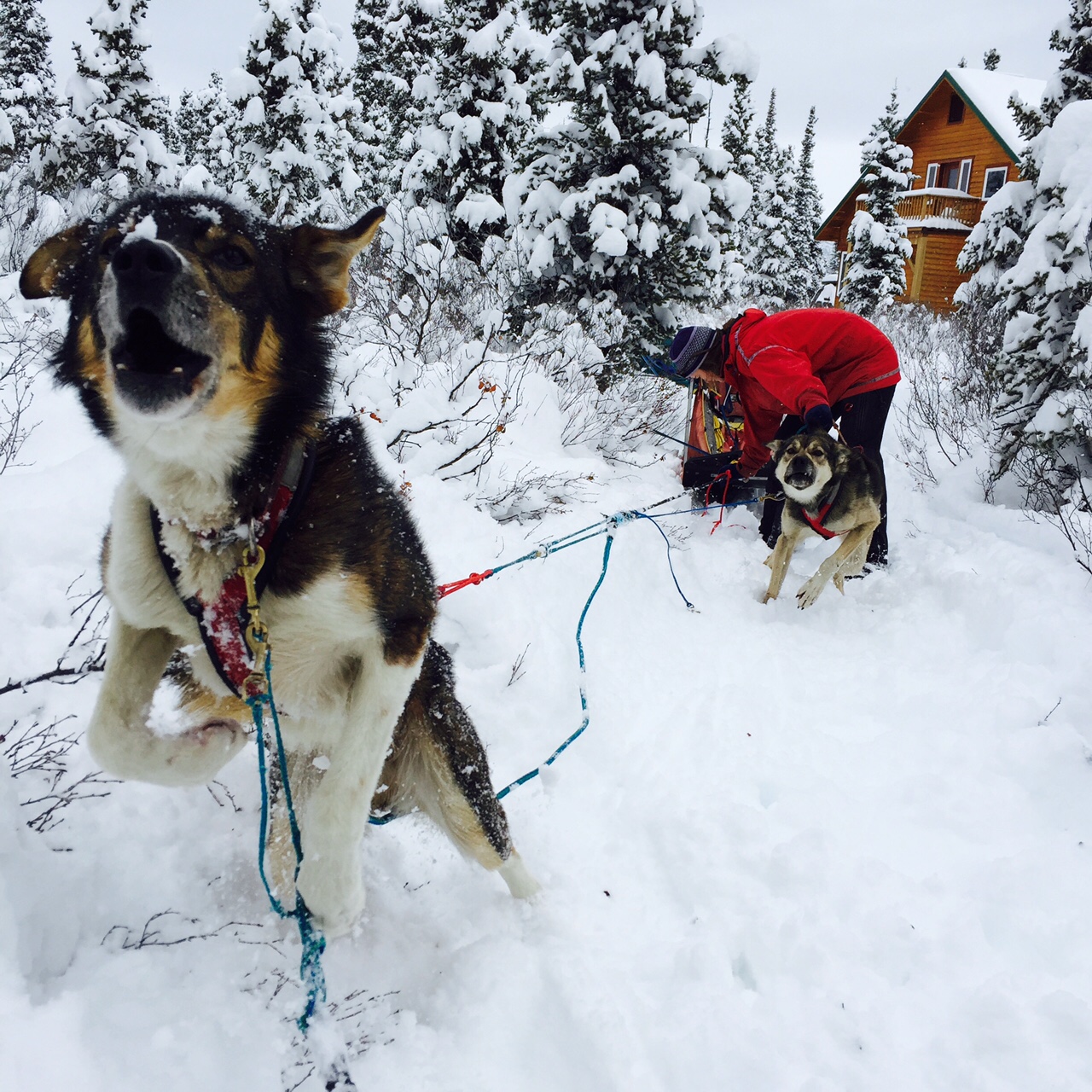 October 30, 2015. Is it 2016 yet? by Debbie Clarke Moderow
31 Oct 2015, by Uncategorized
in
Several times during the last few weeks, I've caught myself thinking that it's already 2016. That's because I'm so eager for the upcoming winter—the January camping trips when we run 40-60 miles and then stop over night on the trail. We feed the team their dinner before indulging in our own hot meal, usually spaghetti with meatballs and a bottle of hearty red wine. Then, after singing with the dogs and sitting around a bonfire admiring the stars, Mark and I crawl into our white canvas tent. From the cocoon of my sleeping bag I watch him light a fire in the compact woodstove. While the air warms, I listen to the crackling fire and the dogs rustling in their beds of straw. Then we all slip into a sweet and peaceful sleep.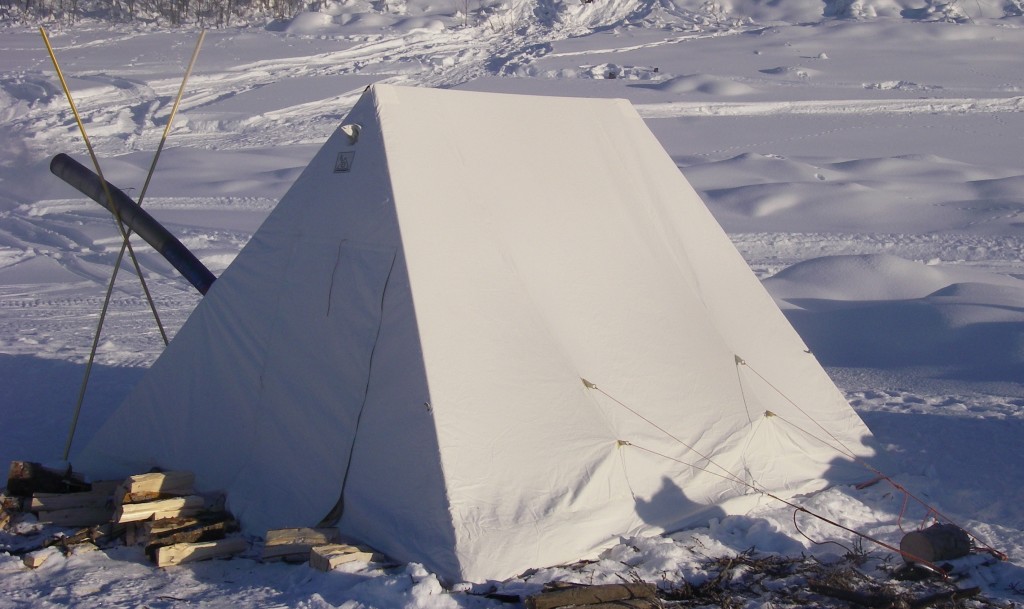 One of our camping tents, complete with woodstove.
Those camping trips represent the highlight of every season, but we didn't camp often last year because snow was scarce and temperatures were ridiculously warm. So my hopes for the winter of 2016 are particularly high. But it's not only the dog season that has fast-forwarded my focus to 2016. The February launch of my memoir is a major distraction.
After ten years writing and revising, Fast Into the Night will be on bookshelves on February 2. There's an advance reader copy on my desk; a stack of promotional postcards arrived yesterday. Plans for February and March include a festive launch party in Alaska and a book tour that will begin in the Pacific Northwest and travel through Minneapolis and on to New England.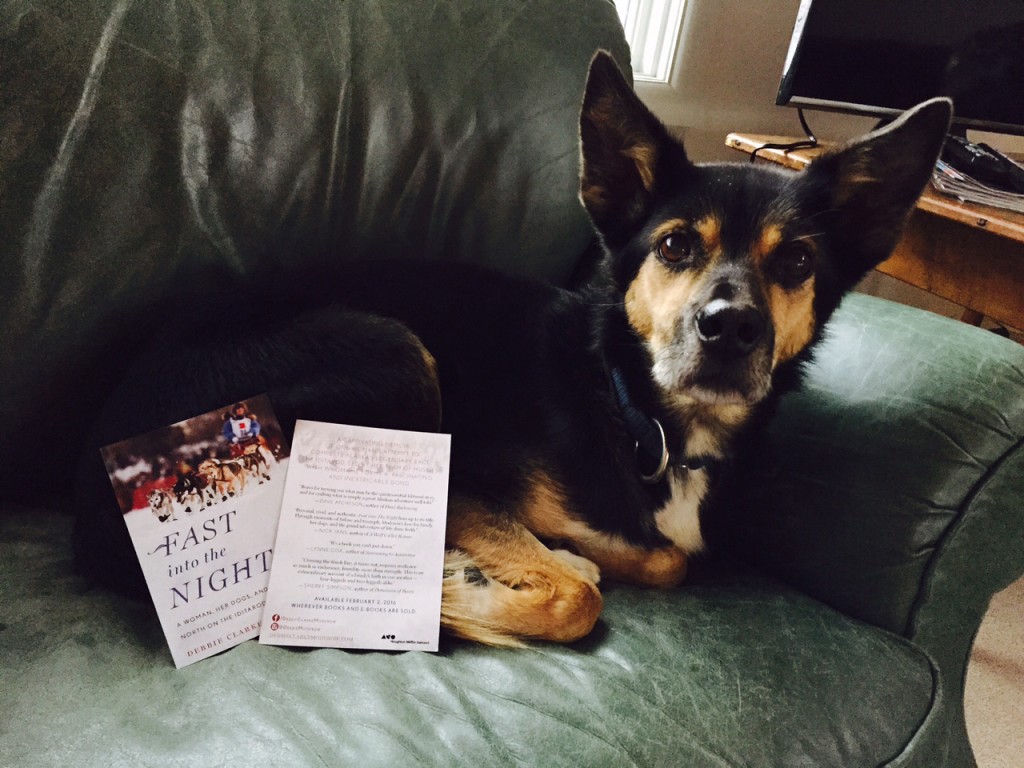 Cheddar on the couch, with some postcards.
To publish my first book represents an adventure all of its own. I have to admit, putting my story out in the world makes me feel self-conscious. Vulnerable. The tension I feel reminds me of preparing for my first Iditarod. Many people came up to me then and congratulated me for signing up for the race—all I could think of was how I hadn't done anything worthy of congratulations, yet anyway. There's a striking similarity now. "Congratulations, Debbie, you have a book coming out!" a neighbor says to me at the grocery store.
And all I can think is, "Oh dear God, I hope that's how you feel after reading it."
I am honored and thrilled to publish this book. I'm particularly grateful to PLU's Rainier Writing Workshop where I recently received an MFA in Creative Writing.  That program made all the difference. In this challenging time to publish, working with the Houghton Mifflin Harcourt is a dream come true.
Despite all this goodness, the jitters don't leave me alone. Last night at 3 AM I was wide awake, just the way I tossed and turned in the early morning hours during the lead-up to my first Iditarod. During those weeks I reminded myself, "It's all about the dogs." When the anticipation wore me down, I'd go wrap my arms around Kanga. Or let Sydney indoors to sleep on the bed. The same is true today: my memoir is "all about the dogs." My leader and sidekick Sharp Cheddar is rarely out of my sight. She's lying at my feet right now.
Sydney on the bed, 2009
Many have asked me how it felt to finally complete my long Iditarod journey. You'll have to read the book to find out. But I will say here, completing the race granted me the perspective to look back and consider what mattered most. To have given my dogs and the distance my best effort was more valuable than any prize. It occurs to me that once more I've given a marathon journey—the writing of this dog story—my all. That is all I can do.
With that in mind, maybe tonight I'll sleep like I'm in that warm tent on the trail alongside our dogs. And once this blog is posted, I'll rouse Cheddar from her morning nap. I'll harness her up with Tiger and Brie, Spaghetti, Bowtie, Melli, and Triscuit. We'll go on a fifteen-mile training run, good preparation for the longer miles to come.
Most exciting, there's a lot of snow in the forecast for the next few days. 2016 just might be the best winter ever.